Free Apple Products Giveaway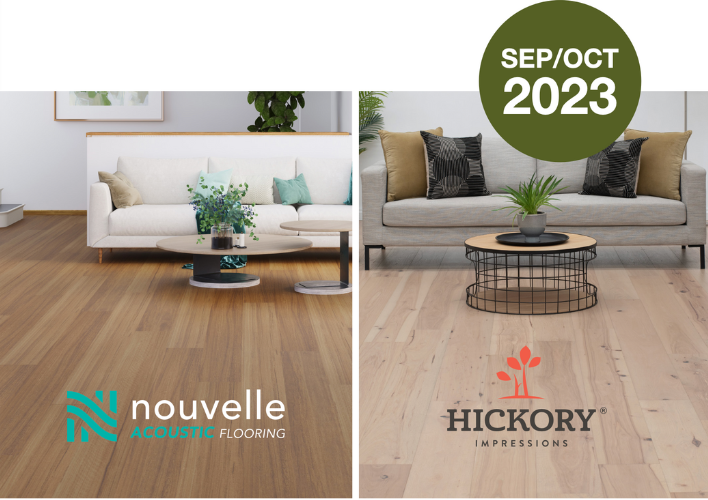 Get ready to elevate your living spaces with the exquisite Australian Select Timber range. Imagine the perfect blend of sophistication and functionality for your floors. With the Nouvelle Acoustic and Hickory Impression Classique collections, we present to you a selection that's designed to transform your spaces.
Nouvelle Acoustic Hybrid Collection:
This hybrid flooring boasts unbeatable acoustic performance, thanks to its 1.5mm cork back layer. Walking across this flooring will astonish you with its quiet and soft feel underfoot. Perfect for families and pets, it's ideal for any living space – residential or commercial, including bathrooms and laundries.
100% Waterproof: Effortless cleaning and maintenance.
Endless Choices: Twelve fashionable colors are available to suit any space.
Versatile: Suitable for residential and commercial properties alike.
Hickory Impression Classique Collection:
This flooring is hardened by nature to withstand the demands of modern lifestyles. With textures reminiscent of European Oak, unique colors, and exceptional stability, Hickory Classique ticks all the boxes.
Unique Texture: Similar to European Oak with unique colors.
Exceptional Durability: High stability and durability for busy environments.
Natural Elegance: Fusion of hardness, strength, toughness, and warm colors.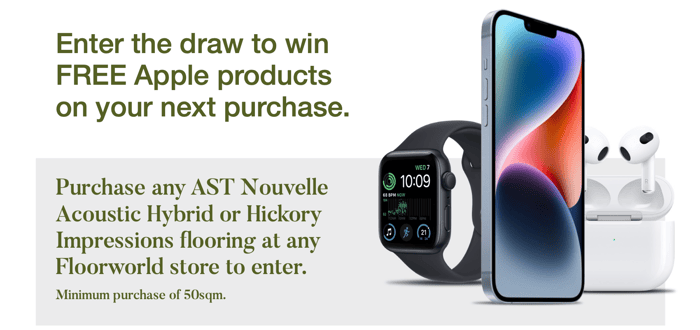 Unlock More Than Just Flooring: By choosing the Australian Select Timber range at any Floorworld store, for your flooring project, you're not only investing in elegance and durability but also in the chance to win incredible Apple products.
To be a part of this exciting promotion and experience the luxurious Australian Select Timber range.
Don't miss this opportunity to enrich your living spaces with the finest in flooring while getting a chance to own cutting-edge Apple products. For further inquiries and to learn more about this offer, feel free to contact us.

To receive an entry into the draw to free Apple products individuals must purchase a minimum 50sq meters AST Hickory or AST Nouvelle acoustic flooring for installation, in an owner-occupied residential dwelling, owned by the entrant during the period from 01 September 2023 to 31 Oct 2023, in one transaction from any Floorworld Australia store.
* Terms and conditions apply.
* Entry to the promotion is accepted that you have read and understood the Terms and Conditions of Participation and associated Floorworld Policies.
Enter your details below to go into the draw
Our most popular blogs
How to clean and maintain timber flooring

If you recently had a timber floor installed, you might wonder how to clean and maintain it easily amidst...

What is Hybrid Flooring?

Hybrid flooring is known as the innovator of the flooring world and here at Floorworld, we agree. If you...

How to clean and maintain Vinyl Flooring

Vinyl floors have come a long way over the last thirty years and are available in a wide range of prints and...