Our Brands
The best advice. The best prices. The best range. It all comes together at Floorworld. Your local carpet, flooring and blind specialists.
Selecting the right flooring for your home is more than just a design choice; it's an investment in your living space's overall look, feel, and functionality. By carefully considering factors such as aesthetics, durability, comfort, and health considerations, you can find the perfect flooring that aligns with your lifestyle and enhances the value of your home.
Floorworld stores proudly stock a wide range of flooring products from reputed Australian brands. With a commitment to quality and durability, these brands offer diverse flooring options to suit every style and budget. From luxurious carpets to elegant timber flooring, vinyl, laminate or hybrid flooring, Floorworld has something for everyone. Whether you're looking to renovate your home or upgrade your office space, you can trust Floorworld to provide top-notch products that will enhance the beauty and functionality of any space. You can visit your nearest Floorworld store today and find the perfect flooring solution for your needs.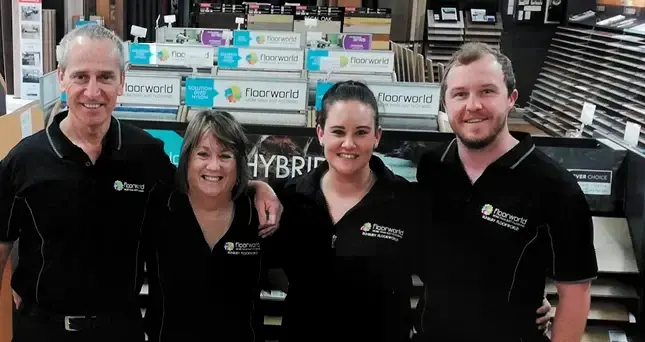 Advice. Price. Range.
As market leading floor specialists, partnering with some of the biggest brands, Floorworld plays a pivotal role in supporting Australian made products, suppliers and family businesses.
Select from one of our trusted brands to see the full range of products available from each brand, select the brand and browse the range
Airstep has an extensive range of Australian made carpet underlays and hard flooring underlays manufactured from a variety of materials.
Featuring an array of Australian-inspired timber designs, Armstrong Flooring is where style meets functionality.
As the name suggests, Australian Select Timbers offers a selection of the best material to create sustainable floors.
Beaulieu is recognised as one of the largest known carpet manufacturers, providing a comprehensive range of innovative floor coverings in Australia.
Offering a wide range of high-quality flooring, Clever Choice products are inspired by excellence and innovation to enhance your living spaces.
Clix is a cost-effective option when you don't want to compromise on the look and durability of your floor. Clix will stand up to the rigours of day-to-day life with its high-density panels and tough melamine finish.
Dunlop Underlay adds luxury and longevity to carpets and timber floors, whilst their Heartridge Floors are built with innovative technologies and backed by a lifetime structural guarantee.
Synonymous with luxury, style and integrity, Feltex is a leading manufacturer of many best in class carpets in the world, setting the standards for quality in wool blend and wool carpets.
Gerflor designs manufacture, and markets innovative,
decorative and eco-responsible interior finishes.
With over 150 years of flooring production in the flooring industry, Godfrey Hirst leads the market in performance, quality, colour and luxury across all it's product categories.
Create your dream space for your family with confidence and peace of mind when you choose Imagine Floors where durability and design meet.
Made from virgin material to meet the strictest emission and safety standards the Pegulan Fusion floors are realistic and natural giving you that desired true to life appearance.
Polyflor's beautiful flooring collections for your home is sure to bring a sense of style, uniqueness and comfort to your floors. Specialists in vinyl flooring that is stylish, durable, and low maintenance.
High-quality carpets produced in their purpose-built facility in Melbourne, Quest Carpets has a strong focus on customer service and superior product quality while continually embracing new technologies and equipment.
Choose from a beautiful range of hybrid, timber or laminate flooring from the Quick-Step ranges and you are guaranteed a beautiful home with all the functional benefits you want.
Easy to care for and great to live on, Redbook Carpets are family friendly with practicality, colour, warmth, comfort, stain protection and style.
Redbook green carpets are a family friendly choice, being easy to care for and great to live on properties to suit all members of your family. Redbook green triexta is an ultra-soft and ultra-durable carpet.
Signature Floors are experts in designing sustainable and fit to purpose flooring through it's on-trend, colour-rich and flexible flooring products.
The waterproof hybrid flooring from Titan has a range to select from that suits your lifestyle and taste without the heavy price tag.
As a world-class supplier of tufted carpets, for both residential and commercial applications, Victoria Carpets is recognised for its high-quality products and exceptional service.