Best DIY cleaning tips for carpets

Benefits of carpet flooring
Carpet is your feet's best friend. While adding warmth and cosiness to a room, the carpet provides sound and temperature insulation benefits and helps make your house a home.
Whatever the type of carpets chosen for your home, be it hard-wearing carpets for those hallways or luxurious wool carpets for your bedroom, it is essential to know how to maintain them and keep them clean.
Cleaning Tips for All Carpet Types
There are many different types of carpets based on their pile, fabric, and texture- and each of these types has specific cleaning regimes, but they all benefit from regular maintenance.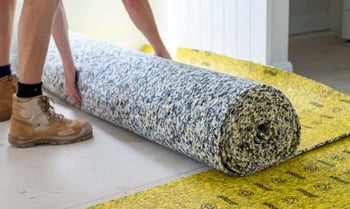 1. Installing a base layer before laying your carpet
A spongy layer of padding installed underneath your carpet can make it easier to vacuum and clean. It also provides extra cushioning for your feet, absorbs sound, and keeps winter drafts from seeping through the carpet.
High-quality underlays extend the life of the carpet.
Contact your nearest Floorworld store, and we will help you choose the perfect underlay for your floors.
2. Regular vacuuming and deep cleaning
Although obvious, it is one of the most overlooked steps when maintaining your carpets at home.
Vacuum cleaning your carpet and rugs habitually at least once a week or twice a week in high-traffic areas can have many long-term benefits for your carpets.
A high-quality vacuum cleaner is essential to extend the beauty and life of your carpet.
For low pile carpets, Feltex recommends using either a handheld vacuum cleaner or a high-quality drum vacuum cleaner with an electric rotating brush or a vacuum cleaner/wand combination.
For thick or piled carpets, you can increase the height of the spin-dryer to make it easier to vacuum.
To avoid excess lint, turn off the brush or replace the head when vacuuming loop piles.
Invest in a good vacuum cleaner for your carpets and ensure that the vacuum fits your type of carpet.
When choosing a vacuum cleaner for a luxuriously thick and soft pile carpet, look for the following features:
Adjustable Height and suction force-Uses suction force that allows the vacuum cleaner to move quickly while lifting dirt and other debris.
Large wheels-Vacuum cleaners should easily slide on the carpet—efficient airflow-Avoid vacuums due to highly concentrated or closed suction.
Talk to your nearest Floorworld to find the best vacuum cleaner that suits your carpet type.
3. Create a deep cleaning schedule for your carpets

Like it's important to maintain a regular vacuuming schedule, it's also essential to deep clean the carpets on a biannual or annual basis.
4. Prevent dirt from coming in
As always, prevention proves to be a better option than the cure. In this case, it is always best to prevent dirt from coming into the house as much as possible. This will ease your cleaning processes and make them much more effective.
There are several basic steps to prevent dirt from entering your home.
- Remove Shoes: An essential but effective habit when keeping your carpets clean is to get your family to remove their shoes when walking into your home.
- Use mats: Use an outdoor mat to prevent dirt and moisture from entering your home and clean it regularly.
Use indoor mats or rugs in high-traffic areas such as bathrooms or hallways, in front of the front door, when watching TV and in front of your couch etc.
See our extensive range of rugs to suit any location in your home.
5. Avoid physical damage
- Move heavy furniture from time to time to avoid crushing the carpet fibres.
- Avoid damage when moving furniture by using cardboard between furniture and carpet.
- Using coasters under the legs of tables, chairs, and other furniture to distribute weight is another crucial tip when maintaining your carpets.
- In rooms with carpet exposed to direct sunlight, use window shades, curtains, blinds, or sunshades to protect the carpet from the effects of UV light.

6. Immediately clean Spills and Stains
- Spills are best avoided, but when they do occur, it's a cardinal rule to clean carpet spills and stains as quickly as possible. The longer you let the stain sit, the deeper it will sink into your favourite carpet.
- When inevitable stains or spots occur, make sure you use carpet cleaning products or make a homemade cleaning solution for your specific type of carpet.
- Use a blunt knife or spoon for solids,
- Soak up liquids, and use a wet/dry vacuum cleaner for large spills to clean spills as much as possible.
- Do not rub the carpet when removing the dirt; always work from the outside to the centre.
- Check out our range of stain-resistant carpets here.
Cleaning Tips According to Carpet Type
Wool carpets - Stay away from Bleach or Alkaline Products
- If you have expensive wool carpets in your home, keep beach or alkaline cleaning products away from them.
- Using bleach or other cleaning products made using alkaline products such as ammonia to spot clean stains can create a patch in your wool carpet.
Berber carpets - Don't scrub
- Although Berber rugs and carpets don't trap dirt like other carpet styles due to their large loops, if you ever stain these carpets, it's vitally critical that you don't scrub as that can cause snags or create fuzzy spots. Instead, you can blot the stain from the outer edges.
This will also help prevent spreading it.
Nylon and Wool Carpet - Use Carpet Stain Protectors
- You can use a carpet stain protector to preserve your hard-wearing nylon and wool carpets.
However, this does not mean you can replace stain protectors with regular maintenance.
Polyester carpets - conduct a Hot Water Extraction
- Polyester carpets are mostly stain-resistant, but again this does not exempt them from the need for regular maintenance and deep cleaning.
- Using a steam clean extraction technique will remove deeply embedded dirt and debris from the carpet fibres and is recommended once or twice a year.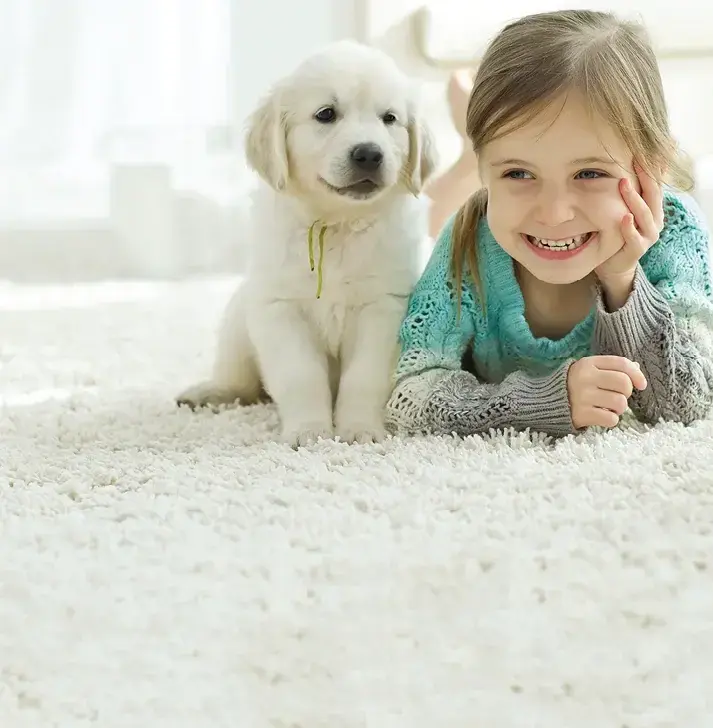 Carpet cleaning tips for pet owners
-Getting those pesky but unavoidable stains will be one of your primary concerns if you have pets and carpets.
- At the start, it is essential that you choose the best pet-friendly and family-friendly carpets for your home. Selecting the correct type of carpet is a key step in maintaining your carpets.
- To clean up a fresh or dried stain created by your pet, use a specific bio-enzymatic cleaner that will neutralise the urea and uric acid and eliminate proteins and starches. Ordinary carpet cleaners can't do that.
Check out the Floorworld carpet store nearby and get professional advice and support from our friendly Floorworld staff.
How Floorworld can help
Floorworld can organise flooring installation for you through our network of experienced and trusted tradespeople. Click here for a free measure and quote.

If you want to proceed with a DIY installation, we're also more than happy to recommend suitable products and answer any questions you might have. Leave a message for us here and we will contact you with more details.

We have stores in all major cities in Australia. See our Floorworld store finder to find a store close to you.

Read our latest flooring trends for 2022 to inspire your next DIY project.
For more useful tips on DIY please download our eBook by filling out the form below.