Floorworld Steps Up with the Pancare Foundation

In life, we often find that our truest purpose lies in the meaningful connections we make and the difference we can create together. At Floorworld, we are deeply proud to announce the "Stepping up for a Cure with Pancare" partnership that not only aligns with our values but also pays tribute to two extraordinary individuals who touched our hearts deeply—Billy Tsapatsaris and Glenn Jeffcoat.
Honouring Billy and Glenn
Billy Tsapatsaris, a past director of Floorworld, was more than just a colleague; he was a dear friend and a driving force behind our success. Billy's unwavering dedication and passion for excellence left an indelible mark on our company. Tragically, Billy's journey was cut short by pancreatic cancer, but his spirit lives on in the values he instilled in our Floorworld family. His great support extended beyond our doors and into the heart of our local community.
Glenn Jeffcoat, the heart and soul of Nowra Floorworld, was not only a beloved member of our community but also an embodiment of unwavering determination and an unyielding spirit. His battle against oesophageal cancer was a testament to his incredible strength, and his memory continues to stir deep emotions within us every single day. Glenn's unwavering support for our community was not just a trait but a profound part of his character, and it's a legacy we hold close to our hearts, committed to preserving and honoring with deep emotion.
Our Partnership with Pancare
In their memory and in honour of countless others affected by pancreatic cancer, Floorworld is launching a campaign in November as part of our partnership with Pancare. Pancare is a leading organization dedicated to improving the lives of upper gastrointestinal (GI) cancer patients and their families through research, support, and advocacy.
Pancare, established in 2011, is a beacon of hope that inspires awareness and lends unwavering support to families affected by GI cancers. Through their dedicated efforts, they invest in world-class research that advances our understanding of these cancers. This commitment extends to discovering new treatments, early detection strategies, personalized medicine approaches, optimal patient care, and the development of future leaders in cancer research. Pancare also plays a pivotal role in supporting clinical trials, which are critical for advancing treatment options.
One of Pancare's invaluable services is Pansupport. This service is a lifeline for families impacted by those suffering from GI cancers. Pansupport offers a compassionate and knowledgeable resource for advice, emotional support, and guidance on treatment options.

A Splash of Purple for Tribute
To reflect the significance of this partnership and the memory of Billy and Glenn, we are making changes to our company branding by going purple for the month of November. These changes are not just about logos and colours; they are a visual representation of our dedication to the cause and the people we hold close to our hearts.
Through this bold move, we aim to not only express our solidarity with the incredible work carried out by Pancare but also to increase awareness of their mission and what we can do to help.
Your Call to Action
We invite you to be a driving force in this mission. Your support can change lives and shape the future. Here's how you can make a difference:
Purchase Select Products in November: Some of our leading brands are providing specific offerings when purchased through Floorworld this November. A portion of these purchases directly benefits Pancare.

Directly Donate to Pancare: You can make a donation by going straight to the Pancare website directly at pancare.org.au
All your contributions fuel critical research and provide support to individuals and families facing pancreatic cancer.
Let's stand together, united in our fight against pancreatic cancer. The legacies of Billy and Glenn remind us that, even in adversity, we possess boundless hope, compassion, and the power to drive positive change.
At Floorworld, we've always believed that our purpose extends beyond floors. It's about the connections we make, the lives we touch, and the enduring impact we create. Our partnership with Pancare is a testament to this belief. We invite you to be part of this journey, to honour two exceptional souls, and to join us as we write the next chapter—one marked by compassion, resilience, and hope. Together, we can truly make a difference.
Check out below for what we were able to achieve last year!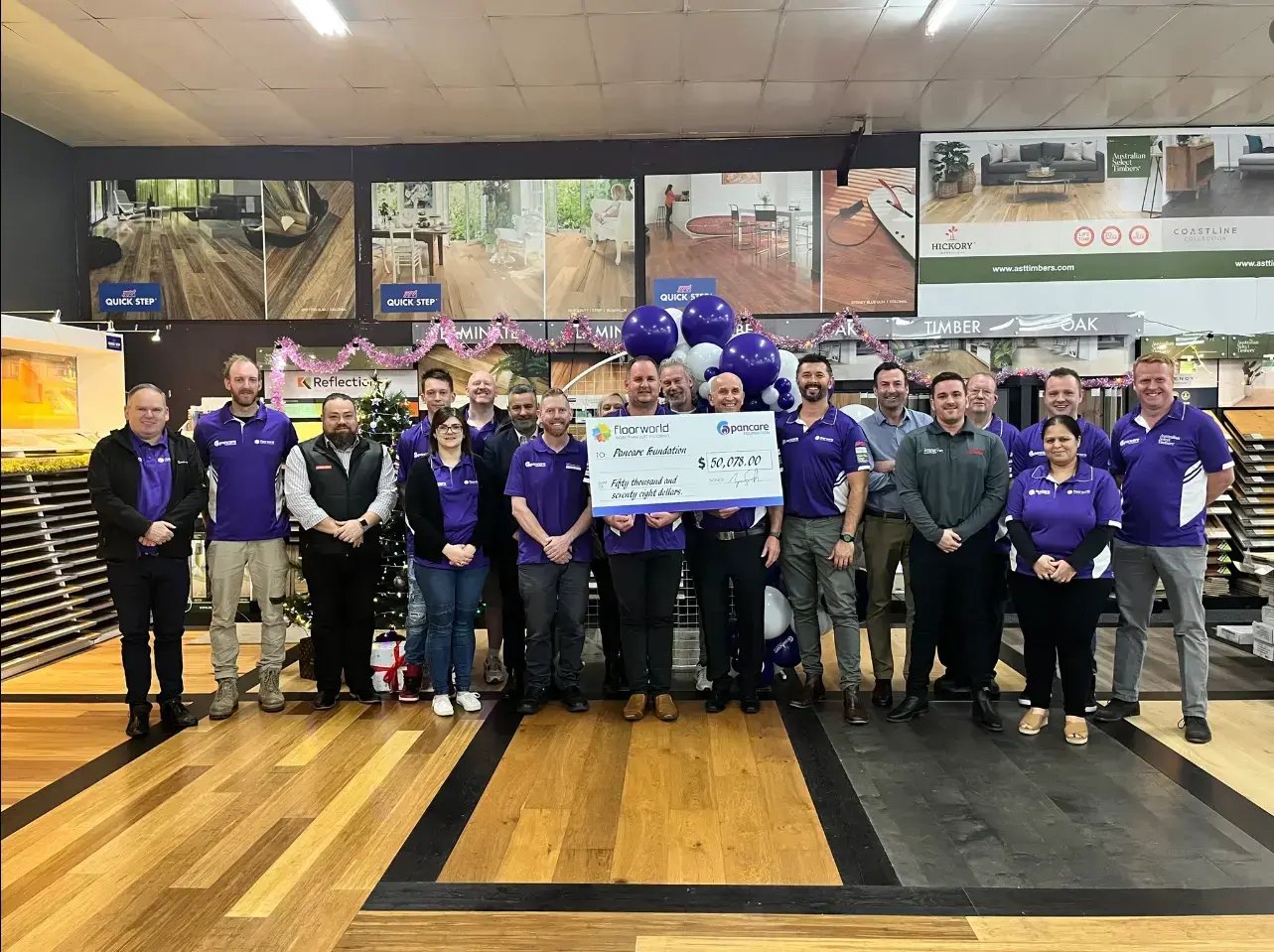 To get notified of the latest blog posts, sign up for our mailing list below.