What should you look for when buying carpets for your home?
Carpets are comfortable, soft and warm on feet, safe for kids, cost-effective, has a large range of colours and designs to choose from, has great acoustic properties and some varieties have stain-resistant properties.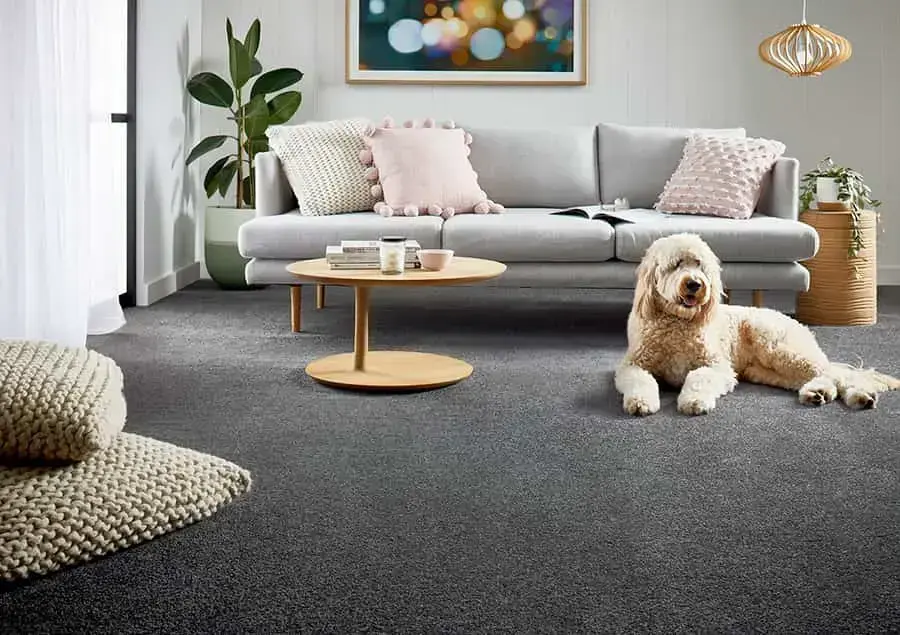 Your choice of flooring will be the most important decision you will be making when building a new home or remodelling your current home. So, when choosing the right type of flooring you will need to consider many factors such as your family needs, durability, slipperiness, appearance, cost of product and installation etc.
Why should you consider carpets?
Carpets are comfortable, soft and warm on feet, safe for kids, cost-effective, has a large range of colours and designs to choose from, has great acoustic properties and some varieties have stain-resistant properties.
Carpets can keep your home cooler in summer and warmer in winter, due to their insulating properties, offering you a far greater level of comfort during every climate while saving energy costs and reducing greenhouse gas emissions.
Did you also know that carpets can trap most of the dust and allergens in your home and these are removed by vacuuming? This makes it easy for people who have allergies or breathing difficulties such as asthma patience to breathe easily.
Disadvantages of carpets
The number one disadvantage is that carpets are difficult to maintain and requires professional cleaning at least once a year. It can absorb smells and does not suit moisture-prone areas such as the kitchen or bathroom and is not pet friendly.
Once you have made peace with choosing carpets over the plethora of flooring options available, you will need to choose the best type of carpet or carpets for your home.
Types of carpets available
There are three basic styles of carpets called cut pile, looped pile, and cut-loop pile, depending on the weave used.
They will differ again with the type of fibres used such as wool, nylon, triexta, solution-dyed nylon, polypropylene, and polyester.
The types of carpets available depend on the type of fibre and the weave used creating a different finish, density, weight all together to suit different preferences.
Different treatments or products added to carpets during or after manufacturing will also create different choices based on the need for extra protection against moisture or stains.
The feel and wear of a carpet can also vary with the type of layer underneath the carpet called underlay used.
Piles describe how the yarn is either cut and twisted or looped to stay in place to make a carpet. Broadly it is how the fibres are used to manufacture the carpet.
You can choose from a range of pile styles with different textures. The different fibre arrangements will cause some styles to wear down easily while making others more resilient to heavy traffic etc.
Choosing the right carpet colour for your home
Choosing the right carpet is more than looking at comfort underfoot. It also has a lot to do with style and the look and feel you are creating for your home. It can potentially speak volumes about your sense of design and improve the resale value of your home in the long run.
Choose light colours for smaller rooms to make them appear larger or spacious. However, keep in mind that these will show spots or stains clearly.
On the flip side dark colours tend the hide those pesky stains but happen to show lint more clearly.
If you are at a crossroad, choose carpets with a design that involves lighter and darker fibres. These will hide both stains and lint. Choose the design carefully to match the space.
Pop into any one of our Floorworld stores and we will help you choose from a wide range of carpet styles available. You can see, touch, and feel the carpet before choosing or we can have a sample sent to you.
Choosing carpets for the different spaces of your home
Choosing carpets for your home, it is important to consider factors like the amount of traffic and exposure to dust etc.
Stairs, landings, and hallways
These are considered high traffic areas prone to higher wear and tear. The best carpet for such areas would be a nylon short cut pile which is easy to clean and does not mat easily.
Try to choose dark-coloured carpets for these areas as they conceal dirt. However, be mindful that with the choice of dark colours you may need to increase lighting to improve visibility and aesthetics.
Bedrooms
In a home bedroom are the most common areas that use carpets vs other floorings. Choose a carpet that is a long pile or with high-level loops with thick padding for extra comfort.
Keeping the above requirements in mind the best carpets to consider for your bedroom would be nylon or wool. Your budget is also an important factor to consider when choosing.
Kids' Rooms
A place that has very high traffic and risk of soiling but requires maximum comfort. Being easier to vacuum and spot treat frequently, Loop pile in a polypropylene fibre becomes a better choice for these locations.
Living Rooms or Family Rooms
If you are an active family, areas in your home with higher traffic and rank high in terms of aesthetic value such as living, or family rooms need stain-resistant carpets that can be maintained easily and won't show much wear. Nylon, polyester, or polypropylene carpets are commonly preferred choices for such spaces.
If your living space has windows that are exposed to direct sunlight you would want to choose a carpet that won't fade easily such as nylon or polypropylene.
For Elders with Walkers
Choose a carpet with a short pile or loops with a pad with a density of 8 pounds, if you have a family that uses walkers or wheelchairs. This will prevent crushing while making it easy for them to move across without slipping or getting entangled.
Luxury carpets
Wool and cotton carpets are considered the most comfortable and luxurious carpets. They are elegant, timeless and eco-friendly but come with a high price tag.
Choose these for low-traffic areas where guests may visit.
Best Carpet for Pets
If you are a pet enthusiast and want to choose the best carpet that will minimise stains, wear & tear or pet dander while providing soft comfort of a carpet go for a short pile made of nylon.
Stain-Resistant Carpets
Carpets made out of polypropylene are considered the most stain-resistant carpets available.
Mould-Resistant Carpeting
For those moisture-prone areas in your home polypropylene short pile carpets will provide the best resistance to mould growth.
Longest-Lasting Carpet
Choosing carpets for a rental or B&B? Frieze or Berber style carpets are the long-lasting carpets available that commonly lasts for up to 10 years but could go for even 25 years if maintained well and promotes high resale value.
Low VOC/Environmentally Friendly Carpets
Natural fibre carpets such as wool or cotton have the lowest volatile organic compounds (VOCs) recorded. The best commercial carpet is nylon frieze, also known as twist pile.
Choosing the right underlay or padding for your carpet
Carpets need a cushioning underlay for ideal use. The type of underlay used, its thickness affects how the carpet looks and feel underfoot. The use of underlay padding can increase the thermal insulation properties of carpets, thus helping to regulate the temperature automatically and saving energy.
A thicker underlay can be supported by most luxury plush carpets in low traffic areas.
However, for Berber-style carpets, you will need to get a thinner underlay with a higher density.
Carpets can be made from a variety of materials, and it is possible to take extra steps to protect your carpet from damage or stain. Reach out to your local Floorworld store for more information and to find the best products for your carpet. For more information visit www.floorworld.com.au or visit your local Floorworld retailer.