What is Hybrid Flooring?
Hybrid flooring is known as the innovator of the flooring world and here at Floorworld, we agree. If you can't decide between laminate and vinyl flooring then hybrid could be for you.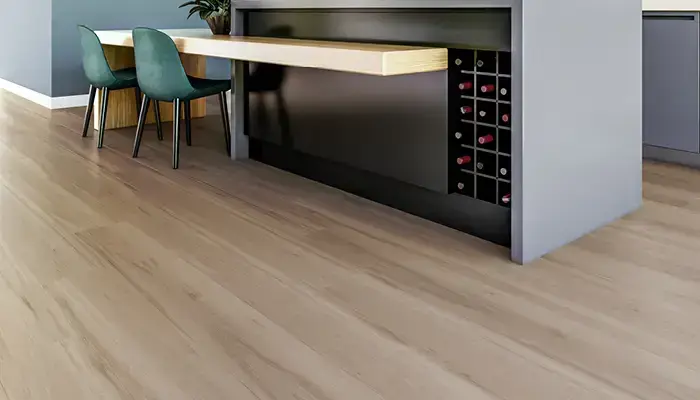 Hybrid flooring combines the rigidness of vinyl and the durability of laminate to give the best of both worlds. Our high-quality hybrid flooring is made with four layers. The top layer, which is a hard-wearing surface layer, a decorative layer, the waterproof core layer and the pre-adhered backing layer to ensure easy installation is possible for every job. Your local Floorworld team will also assist with selecting the best underlay for your project depending on your flooring requirements.
What are the benefits of hybrid flooring?
How do you decide if hybrid flooring is the perfect choice for you? Hybrid flooring is versatile and has a range of advantages that are not available in other flooring options such as timber, laminate or vinyl. Check out the benefits of hybrid flooring below.
Durability: Hybrid has superior wear resulting in long wear for both residential and commercial applications, especially when looked after properly. With its rigid core technology, hybrid floors are manufactured to be resistant to UV light, stains, dents, and scratches, making them an ideal option for your busy household or business. You can feel confident that your flooring will handle high foot traffic, adventurous playtimes and is extremely pet-friendly.
100% Waterproof: Combining the rigidness of vinyl and the durability of laminate allows for the best qualities to be combined into a 100% waterproof hybrid board. Now you can have your desired timber look throughout your home including the bathroom, laundry and kitchen without concern of splitting or swelling.
Suited for Australia: The multi-layered construction of hybrid flooring means it is well suited to Australia's climate, including harsh UV rays and temperature changes. In the past, other flooring types were susceptible to expansion and contraction that could result in swelling or uneven surfaces. The hybrid flooring planks that we stock are designed to combat these issues and are able to withstand temperature changes with minimal expansion and contraction.
Suited for you: Whether you're looking to lay hybrid flooring in a domestic or commercial environment, hybrid has a design to suit you. The decorative layer is designed using special technology to replicate the edges, variations and textures found in solid timber to mimic your desired hardwood flooring design.
Comfort: Hybrid flooring's rigid core technology also helps to produce less sound. Choosing a floor with an attached underlay or adding an underlay will offer further cushioning. You have the option of adding an acoustic underlay to make your steps even lighter. Hybrid's thick, rigid core provides a comfortable walking surface.
Easy to clean: A damp mop combined with regular sweeping, spot cleaning and vacuuming is all you need to keep your brand new hybrid floor clean and in great condition for years to come.
At Floorworld we stock the best quality hybrid flooring from Australia's favourite brands such as Godfrey Hirst, Quick-Step, Airstep, Clever Choice, Premium Floors, Pegulan and Signature Floors. Visit our store locator to find your nearest store to find the perfect hybrid flooring for you.